The Saints regular season starts on Monday, Sept. 11, with a game against the Minnesota Vikings. We can't wait to root for the boys in black and gold, which is why we've outlined two ways to watch 'em (when you're not in the Dome, of course). Make the best of game day whether you're enjoying it at home or if you prefer a local bar in Metairie, Kenner, or Elmwood.
If You Catch the Game at Home
Create a tailgate-at-home experience with all the details of a traditional tailgate – in the comfort of your own living room (plus real restrooms and air conditioning!). One of our favorite tailgate recipes is this Creole Gumbo recipe from Smithsonian Magazine. You can make it ahead the night before and have it warming on the stove throughout the game's telecast. And to keep it truly authentic to a tailgate, don't even think about fancy silverware or china for your guests. Simply provide plastic tableware instead. It'll feel more like a real tailgate, and cleanup will be a snap. You can go as over-the-top or as understated as you like when it comes to game-day décor, but we always like having a football on hand to toss around during commercials.
If You Catch the Game Around Town
We wouldn't dare recommend trying to get into New Orleans proper on game day. Instead, take advantage of awesome sports bars outside the city that are still just a quick drive from many of our 1st Lake Properties. Here are three of our favorites:
Sports Bars in Metairie and Elmwood 
JR's Sports Bar & Grill: Conveniently located on Veterans Memorial Blvd. in Metairie, this sports bar is open 24/7 –the kitchen is open 24/7, too, churning out delicious regional classics like po-boys and shrimp plates. Big-screen TVs will hold your attention while the game is in play while diversions like video games and a fully stocked bar mean you'll still have fun even if your team isn't winning.
Coach's Corner: In addition to pleasing prices and a spacious setup, Coach's Corner lets patrons bring in food from Zita's pizza next door. If you're in the competitive spirit, challenge your friends to a game of pool, shuffleboard, or darts.
Hurricanes Sports Bar: Flat screens everywhere you look, two pool tables, delicious wings. Enough said. Head to Hurricanes on Veterans Memorial Blvd. for all of the above.
If You're on the Northshore or in Baton Rouge
As 1st Lake Properties expands, so does your chance to enjoy Saints games near our properties in Baton Rouge and on the Northshore. Some of our favorites include:
The Beach House Bar & Grill: Tropical drink enthusiasts will love this Northshore spot in Mandeville, which hosts Saints parties during the season. Their drink menu includes options like Caribbean Rain Water Rum Punch, Shangri-La Lemonade, and the Soggy Dog Pain Killer; pair it with islands-inspired dishes like jerk shrimp tacos or the Kona Lua kabobs.
Columbia Street Taproom: Head to Covington and catch the game at Columbia Street Taproom downtown. Plenty of beers will keep you going throughout the game — choose from 30 on tap and more than 60 bottles. If you need more substantial fuel, try the burger.
Stadium Sports Bar & Grill: Fancy up your game day experience at Stadium Sports Bar & Grill inside the L'Auberge Casino Hotel in Baton Rouge. With plenty of TVs and spacious seating, this bar offers up a full list of drinks plus crowd-pleasing food like "Colossal Wings" and their "Nacho Extravaganza."
---
With looks like this, it might be hard to leave our newest apartment community in Covington, but outside of Artesia's gates is a town filled with tons of great attractions for adults and kids alike. If you love the outdoors, the Northshore is a great place to venture out and explore. You're in close proximity to picturesque waterways, scenic state parks, and canopied bike paths that wind through the area's townships. Thinking of indoor options? Test your wits at an escape room or go on a date to the movies.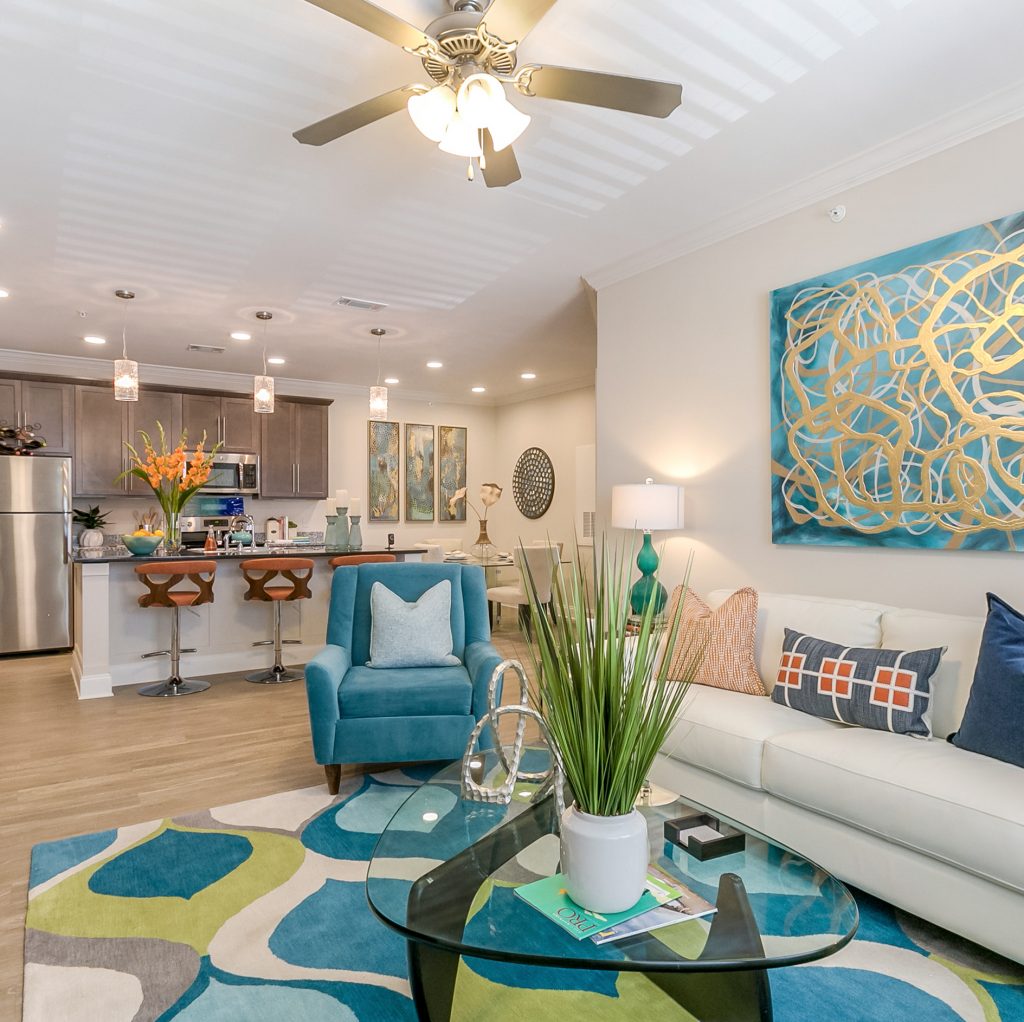 The Great Outdoors
The Northshore is home to several bayous and streams, which are ideal for an afternoon kayak ride. Beautiful cypress trees and diverse wildlife make paddling the Cane River or Tchefuncte River a relaxing experience. You can rent kayaks from a number of local outfitters, and use Louisiana Northshore's list of launch sites for your personal watercrafts. Bogue Chitto State Park has great hiking paths and riverside beaches, and Fontainebleau State Park's 2,800-acre space has boardwalk pavilions, and beautiful, renovated cabins for rent (make sure to book in advance, as they fill quickly). Did someone say, "Staycation?"
If you really want to get wild, head to the Global Wildlife Center for a safari ride alongside giraffes, zebras, kangaroos, and bison! You'll ride in an open-air bus and get the opportunity to feed the animals by hand. Be careful with those giraffe tongues, though!
If you're looking for a different kind of outdoor fun, the Tammany Tracy Bike Trail stretches from Abita Springs to Covington down to Mandeville and into Slidell's Camp Salmen Nature Park. End your light ride from Covington to Abita Springs with a beer at the Abita Brewery, or coast down to the Mandeville lakefront for a sunset stroll.
The Great Indoors
It's still a tad hot outside, so you're thinking of holding off on all things outdoors until later this season… That's ok! There is plenty of indoor fun for everyone in the family. If you're due for a date night with your loved one, the Movie Tavern is both the dinner and the movie. Take a seat and let a server bring you dinner while you watch the latest Hollywood blockbuster. Or you can clue into one of the Northshore's escape rooms like The Escape or Escapology and race against the clock to free yourself from the enclosed space.
Elevation Station is an indoor trampoline park with tons of high-flying fun. We love this place as a solution to rainy day woes, and there are plenty of different bouncy options to keep your kids engaged until exhaustion. If you want a unique experience, head to the Abita Springs Mystery House and peruse their collection of eccentric objects and off-the-wall inventions.
Artesia is at the Center
Artesia's centralized location gives you easy access to all of the Northshore's best entertainment and attractions. Whether you're looking to hit the water or hail the waiter, Covington has everything you need for your outdoor adventure or your indoor indulgences.
---
The summer heat is starting to dissipate, which means new produce will be in season, warmer clothing will be necessary, and holidays like Halloween and Thanksgiving will be here before you know it. Here are some ways to acclimate your apartment (and organize your life!) for the change in season.
Fall Decorating Ideas for the Apartment
Autumn wreaths – Get in the fall spirit and add a festive fall wreath either inside your apartment or on the front door… or both! Wreaths made out of twigs and foliage are always nice for fall and add that autumn touch that signals the season. Check out stores like Michael's and T.J. Maxx for faux wreaths, or consider ordering a fresh wreath from a local florist or stores like Williams-Sonoma.
Decorate for the holidays – Did you see our Fall Realistic Rental Redo? For Halloween and even all season long, place pumpkins throughout your apartment, including your mantle or fireplace. For Thanksgiving, set up a basket of pinecones in your living room and a cornucopia on your counter for that decorative touch.
Color scheme – Consider changing your drapes, sheets, and wardrobe to more fall-friendly colors like jewel and earth tones to really embrace the season. Or, add small pops of color through autumnal accessories like throw pillows and scarves.
Clean out the closet – While not a decorating tip, a change in season is as good a time as any to go through your closet and throw out anything that doesn't fit or that you haven't worn in a long time. Make an event out of it and invite your pals over to help you decide what stays or what goes. Your "trash" might be their treasure! Give the discarded clothing, sports equipment or whatever it may be to a friend or family member, or donate it to charity. You can find a list of local charities here.
---
Essential oils have become a popular addition to self-care regimens, but they're also useful for a number of household needs. So, what is an essential oil? According to Wikipedia, they're "concentrated hydrophobic liquids containing volatile aroma compounds from plants." Essential oils have been traditionally used for aromatherapy, but more and more people are incorporating them into their day-to-day lives. The great thing about these concentrated liquids is their versatility. They're also a great natural alternative to chemical cleaners.
Essential Oils To Use
There are dozens of essential oils you can choose from, but there are a few specific options that are ideal for home use. According to Keeper of the Home, they are:
Lavender
Eucalyptus
Lemon
Peppermint
Frankincense
Tea Tree
Oregano
Wild Orange
Lavender is a staple scent, and you can find lavender perfumes and house sprays at almost any home goods store. It's a soothing scent, but it's also a great topical agent for fresh cuts. It acts as an antibacterial serum when applied undiluted. Burned yourself cooking? Apply lavender to ease the pain. Heading out to walk down one of our garden paths? Use it to ward off insects as a natural repellant.
If you combine 5 drops of eucalyptus and 5 drops of tea tree oil to a 16-ounce water bottle, you have a mold-fighting bathroom spray that smells great. Lemon oil disinfects quick, which can prolong the life of your dish sponges, and it disintegrates stubborn substances like wax, sticker residue, and gum.  Peppermint can keep bugs away from your home. Use a cotton swab to brush your windows and doors with the crisp, minty oil and those flying pests will stay away.
Tea tree oil has a lot of great topical uses, but it's also an amazing antifungal and antibacterial cleaning option. Mix it with water and lemon oil to clean your high traffic areas with ease. After you're done fighting germs, soothing burns, and stopping bugs from invading your space, take your favorite scent and diffuse it for a relaxing end to your essential oil home improvement project. You deserve it!
---
One of the most frequently used rooms in any home or apartment is the kitchen, but for many people, it can also be one of the most stressful. Sometimes it feels like there just isn't enough room to prep and cook dinner or store all of your dishes and pantry items.
Organizing a kitchen properly can not only make the kitchen neater, but more practical. By incorporating a few simple space saving hacks, you can create a much more peaceful and enjoyable kitchen experience.
Organize Your Pantry
If your kitchen pantry has no rhyme or reason to it, it can quickly get out of control if you're not careful. When this happens, food items, spices, paper products and anything else you keep in your kitchen pantry can become disorganized, messy and hard to find. There are simple ways to tidy up the kitchen pantry and keep it neat so you never have to worry about kitchen clutter again.
Pantry Organizers
Start by purchasing different sized plastic or metal baskets to sort pantry products. Use these to separate pastas, oils, cereal, rice and grains, pet food, tea and coffee, bread and anything else in different bins with labels.
First, remove all items from your pantry and set them on the kitchen counter or table while you wipe down the surfaces inside of the pantry. Throw away anything that is old, empty or that you're not going to use. Then start sorting the items into the different baskets or bins, except for canned food. After placing the pantry organizer bins on the kitchen pantry shelf, make a spot for the canned food. It's useful to not only organize items into bins, but organize the bins together by shelf.
After organizing, sorting, and labeling the goods in your kitchen pantry, you'll be surprised how easy it is to find food you forgot existed. No more thinking you don't have any groceries in your kitchen when they're clearly visible right there in front of you!
Keep Your Counters Clear
Keeping your counters clear is key to maintaining your kitchen sanity. Counter space is useful for all sorts of everyday kitchen tasks, from cutting vegetables to making a sandwich. A well-organized kitchen should include plenty of clean counter space.
Wall Hooks
Hooks are great for freeing up counter space. You can find anything from small hooks for coffee mugs to large hooks for pots and pans. If you have nice copper or stainless steel pots, you can show them off. Hanging your kitchen supplies is a great way to functionally decorate. But remember, these hooks can only be hung in our apartments with finishing nails!
Magnets
There are several magnetic kitchen storage devices that can keep important items out of your way. Magnetic knife strips are a great way to keep knives easily accessible and off the counter tops. Try a custom wooden option like this one. You can also incorporate a DIY magnetic spice rack into your decor. These spice racks are fun, unique, and free up plenty of cupboard space.
Open Storage
If you find yourself needing more cabinet space, look for a cute bookcase or china cabinet to keep near the kitchen. You can use it to store items like pretty glassware, dry food stored in matching jars, cookbooks, and indoor plants. A bookcase can make for beautiful decoration while serving a valuable, space-saving purpose.
Streamline Your Drawer Dilemma
Kitchen drawers often become a place to toss all sorts of things, but with a little planning, your drawers can feel much more orderly.
Drawer Organizers
Everyone has that wretched "everything" drawer filled with scissors, random envelopes, and soy sauce packets. Use utensil trays, small plastic bowls or baskets, and drawer separators to keep everything in its place and easy to find.
Enjoy Your Kitchen!
After you're all done organizing your kitchen, get creative and pick a recipe you've been wanting to try out. Cooking with a clean canvas is always the best way!
Enjoy ample kitchen pantry space at 1st Lake's apartment communities, like the Artesia apartment community in Covington. The modern, state of the art kitchens at Artesia feature energy efficient appliances with double stainless steel sinks, multi-tone granite counter tops, and custom cabinetry.
If you're looking for a more spacious and modern kitchen to cook in and clean, check out the available metro New Orleans apartments from 1st Lake Properties!
---