Forbes Magazine recently named New Orleans as their "biggest brain magnet," and with that distinction, a number of young professionals have chosen to move here.
According to a recent article in New Orleans City Business, census figures show that members of Generation X and Y (ages mid-30s to mid-40s) make up almost one-third of the population in New Orleans, compared with a national average of just 26 percent. As a result, demographers were quick to name New Orleans as one of America's fastest-growing cities.
In terms of where to find a home, apartment living is quickly becoming the most viable option for residency during this period of fast growth.
Finding an apartment in New Orleans can be challenging for incoming transplants. At 1st Lake Properties, we are empathetic to the emotional and physical energy it takes to choose a new place to call home. Living outside the city presents an enticing option for newcomers. Apartments are much more plentiful in areas like Metairie and Harahan. This up-and-coming area features suburbs like River Ridge and Elmwood, in addition to our upcoming luxury property, Bella Ridge.
Additionally, these areas offer perks like easy parking and quick access to downtown, both of which are harder to come by when you actually live within the city; congestion and street parking are two constant realities of the New Orleans lifestyle.
"People moving to New Orleans who aren't sure how long they're going to stay or who don't want to buy a home are driving growth in Elmwood," says our senior vice president, Stacey Shane Schott, in the City Business article.
The suburb offers not only unbeatable proximity to New Orleans, but also plenty of amenities. Elmwood Shopping Center features major stores like World Market, TJ Maxx, Ashley Home Furniture, Ulta, Zoe's Kitchen, Five Guys Burgers, and much more.
Bella Ridge itself creates a luxurious atmosphere for residents with thoughtful details like an on-site dog park, office space within each unit, and clean, modern interiors.
"We're expecting folks to stay with us for one or two years until they establish job security," says Schott, noting that residents may choose to buy a house down the road. "Until then, they'll be our residents."
Take a look at all of our Greater New Orleans properties, and please don't hesitate to contact us with your questions.
---
The season of entertaining is upon us. Thanksgiving and the winter holidays mean we'll likely be hosting large crowds and worrying over whether or not the turkey is dry. Why not ease your way into holiday entertaining with a tapas party?
Tapas – bite-size portions similar to appetizers – are ideal for easy entertaining. You don't need to worry about setting the table either: guests can simply use a small plate or even a napkin to hold these delightful little morsels.
With an eye toward local ingredients that are also in season, we've outlined a sample menu for an intimate tapas get-together.
Savory Starters
Tapas originate from Spain, so the use of Spanish flavors and techniques helps create an authentic experience for your guests. Skewer small bites of chorizo and manchego cheese on a toothpick for a no-cook snack – both ingredients have Spanish origins.
Spicy lamb meatballs in tomato sauce are a warming, comforting choice as well. Crescent City Farmers Market offers lamb on Tuesdays and Saturdays, as well as several choices for tomatoes, including heirloom and hydroponic varieties.
While you're at the Crescent City Farmers Market, head to Pete & Clara's Seafood and L'Hoste Family Farms to create a local version of sizzled citrus shrimp. Though the recipe calls for lemon juice, we suggest using organic satsumas instead. These incredibly juicy, easy-to-peel fruits will lend a sweetness and floral quality to the dish along with citrusy flavor.
Leek and mushroom croquettes add a vegetarian option for guests. Cap's Flower and Vegetable Farm at the Crescent City Farmers Market offers fresh leeks – wash them thoroughly as this onion-flavored vegetable tends to hold on to dirt.
Sweet Dreams
Bite-size dessert portions can satisfy a sweet tooth without wrecking diets. For a seasonal nod to beignets, we suggest pumpkin fritters. The recipe calls for homemade caramel sauce, but simple toppers like powdered sugar, cinnamon-sugar, or even apple sauce are equally tasty pairings.
Elegant and deceptively simple, two-ingredient white chocolate mousse is another tapas choice when served in mini, edible dessert cups. Top each one with a mint leaf for a pretty finish.
---
In our modern world, there are toxins everywhere, and cutting them out of your life is just about impossible, but cutting down on the toxins you consume and encounter is possible. Making your own cleaning products using things you already have in the house not only saves you money, but it is a great way to clean your home the green way. You'd be surprised the cleaning power of some of these items!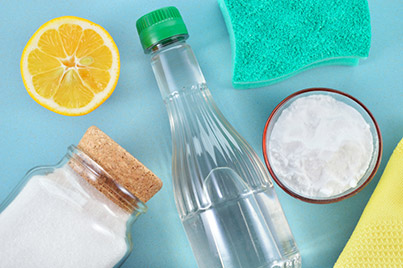 Vegetable Oil — Oil and water don't mix, but oil and oil work wonders. For cleaning oil-based ink and paint off of surfaces throughout your home, as well as brushes and hands, allow vegetable oil to soak on the ink or paint, then wipe it away with a dry towel or rag.
Soy Sauce – Getting rid of grease can be tough, but a little bit of soy sauce cuts right through it. Try using it on your stove and range hood, as well as baking sheets and more.
Baking Soda, Salt & Lemon – If the smell of garlic, or other foods, linger in the wood of your cutting boards, clean and deodorize them with these three simple ingredients. Sprinkle a little baking soda and salt on your cutting board and scrub it around with lemon juice and a lemon half; let it is for five minutes and rinse it well. Voila!
Baking Soda & Vinegar – Try pouring half a cup of baking soda followed by one or two cups of white vinegar down your drain to clear up clogged/gunky drains. The chemistry of the two helps to clear it up quick. A pot of boiling water helps, too.
Newspaper – When cleaning glass surfaces, a rag will always leave pesky remnants, while wiping with newspaper will get your windows and mirrors streak free and perfect.
Ketchup & Soy Sauce – For polishing copper, you won't find anything better or easier than ketchup mixed with soy sauce; it works like a charm. For silver, use just the ketchup for great results.
---
After a certain amount of time, even the most wonderfully-decorated bedrooms can feel boring and in need of a change, but spending a ton of money on re-decorating isn't always in the cards. Luckily, there are many ways that you can infuse new life into your bedroom that don't cost any money at all. Try these simple tactics to help you see your personal space with fresh eyes and excitement.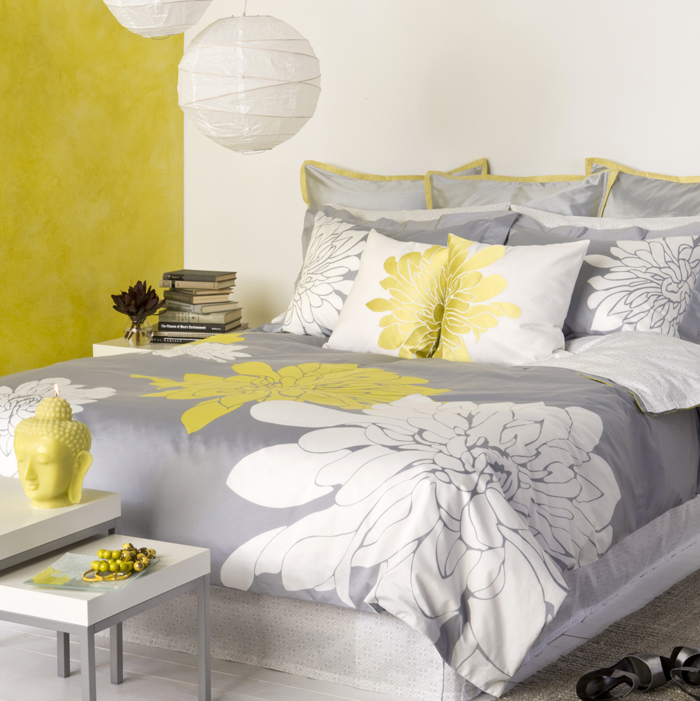 Clean Your Bedding
When life is busy, cleaning the bedding may be the last thing on your list, but if you take everything off the bed and give it a good wash, putting the bed together again with crisp, delicious smelling fabric can make the whole room feel fresh and renewed.
Use Pieces from Other Rooms
If your bedroom is feeling drab, try taking artwork and lighting from other rooms in your home. Maybe the wall piece above your couch would really change the space above your dresser; or maybe the floor lamp by your book case could really bring a fresh lighting scheme into your bedroom. Small changes like this make the world of a difference, and get you excited about the things you already own.
Organize Your Nightstand
It's easy to let your nightstand gather clutter and that can make your bedroom feel messy and frustrating, especially since it is the last thing you see at night and the first thing you see in the morning. Take time to organize and de-clutter your nightstand; keep only what you need and want displayed next to your bed and you can change your whole attitude about your room.
Make Your Bed
Cleaning your bedding is one way to help refresh your bedroom, but on a daily basis, making your bed is key. When you are busy, it may be an easy thing to think you can "do later", but then you end up with an un-made bed all day, every day, and the bed is one of the biggest pieces in any bedroom. Simply making your bed every morning can make you feel organized and make your space look clean. And you can always remind yourself: in a world of chaos, at least the bed is made.
Get Rid of Things You Don't Love
In your closet, in your dressers, and on your tables, take a month and each day get rid of one thing that you don't use, need, or love. Built up clutter and things that we see and don't want anymore can make us feel frustrated and chaotic. Getting rid of excess makes room for the new, and seeing only the things we love in our closets and dresser can help us to appreciate and utilize the things we own more, and more clearly see what it is we actually need in our lives.
---
Happiness is a state of being. Many of us, when busy or upset, can start to feel down and frustrated with our surroundings. Instead of just deciding you don't like your place, you can rejuvenate the space and bring more happy into your home life with a few simple tweaks. A little care and effort can change your perspective on things inside the home and out. Try some of these tips to start feeling happier at home right away.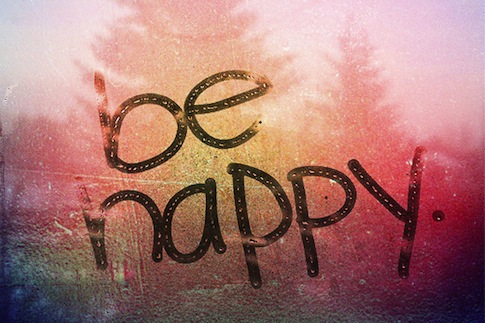 1. Bring in a Plant – Caring for a living being brings a sense of vitality and commitment into a home, and a plant is a simple way to experience those feelings, while also bringing pleasing, and even soothing, color into your décor.
2. Decorate with Personal Touches – Sometimes making a space feel more like home and more like yours can be as easy as decorating with one or a few sentimental items. Displaying things like family heirlooms or precious souvenirs from some of your favorite trips can remind you that you and your experiences are what really make a home special.
3. Focus on One Thing You Love – Gratitude changes everything; you can choose to focus on the negative, which can be found in anything, or you can choose to pick at least one thing a week to focus on that you love about your home. Every time you pass it, you will smile with appreciation, which breeds more appreciation for other things, and brings about inspiration and pride in your space.
4. Find Time to Relax – Our lives can be so busy; making time to relax in your space can make it feel more like home and your sanctuary, rather than just a place to store your things. Take time for reading a book in a cozy nook, squeezing in a weekend nap in perfect afternoon light, or put some music on and cook yourself a lovely meal. You deserve it.
5. Treat Yourself – Every once in a while you need to invest in yourself and your space. Buy yourself a treat that you've been wanting to get for the home and let it be something that makes you smile and brightens the room. If you do this every so often, you will begin to see the home you've always wanted.
---